We've got you covered!
We are committed to great customer satisfaction. Stop by and visit, call us, or request a quote today!
JM Insurance Group specializes in writing home, renters, landlord, auto, umbrella, motorcycles, ATVs, boats, or any other toys or unique items you may own. We have several types of personal insurance to cover all of your individual circumstances.
We are an independent agency that offers a full range of insurance products from several A-rated or better companies. This means you don't have to change agencies as your insurance situations evolve.
Understanding insurance can be quite complicated. At JM Insurance Group, we believe in explaining the options to you so you can make an educated decision on the route you would like to pursue. We encourage a face-to-face visit for the initial meeting to explain coverage and address any insurance gaps you may have. We will do a periodic review every couple of years since life happens and things change.
The companies we represent are great at handling claims. However, the claims experience can be confusing, and we are here to help guide you throughout the process.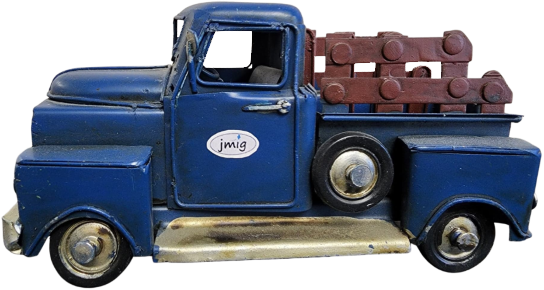 Meet Our Team
Jennifer
"In 2017, I started my new agency. In just a short time, it has grown from one employee to several employees. My passion is saving clients money and getting them the best insurance policy tailored to their situations. Choosing the right insurance agent can make a big difference in price, service, and headaches!"
Jennifer Massey-Norman, owner of JM Insurance Group, was introduced to the insurance industry in 1996, selling life insurance as an internship in college. She also worked part-time for a captive insurance agency assisting home and auto policyholders. She was a financial adviser and a mortgage lender before starting her career in personal lines in 2005. Jennifer is active in the community, serving on several boards of directors, including Rebuilding Together, The Family Tree Center, The Festival of Trees, and currently volunteering with the Billings Downtown Association. She is a breast cancer survivor and dedicates her time to Relay for Life and the Pack the Mall in Pink event. Her summertime is spent camping, hiking, fishing, and going to Mustangs games. She plays softball and is serious about watching NFL football!
Jennifer graduated from Montana State University with a Marketing degree. She has her AINS designation for general insurance and is working on the CPCU designation, which is, in a sense, a Masters of Insurance.
Maddison
Maddison is a full-time, licensed professional insurance agent determined to find the best coverage possible for any of your needs. She is a Montana local you can trust!
As the account manager of JM Insurance group, Maddison plays an integral part in getting to know clients and doing her absolute best to keep them satisfied. She loves working at JM Insurance since she admires how much the producers care about clients on such a personal level and has always wanted to play a role where she can help others out.
Aside from her newfound love of the insurance business, Maddison has been an accomplished artist since she was young. In her free time, she is often found drawing, writing, or spending hours perfecting details with her favorite medium, oil paint. She is a patient person who loves to see everything she starts to the end. Maddison also enjoys being active, whether it is jogging, weightlifting, or hiking. In addition, she is an avid traveler who cherishes new experiences and has been to almost every state in the US!
Maddison has a great appreciation for science, as she has an Associate Degree in Biology from MSU Billings. She has always had a fascination with the world of biology, as she initially focused her studies in the pre-medical area. She is an exceptional critical thinker and strives to carry that dedication into the insurance business.
She joins us in the Spring of 2021 to follow in her Aunt Jennifer's footsteps. She is eager to help clients save money and get them the best fit for any insurance need they bring. She brings a diligent work ethic, dedication, and a creative perspective to the team, to help tackle any problem. She is looking forward to starting her career with JM Insurance Group and could not ask for better mentors than those guiding her.
Josh
Josh joins our team as a dedicated agent whose goal is to help current clients of JM Insurance with all their insurance needs and to aid us in growing our agency. He is a licensed insurance agent specializing in property, casualty, and life insurance.
Josh is a Montana local who has called many places within the state home, such as Bozeman, Great Falls, Glasgow, Missoula, Lavina, Harlowton, and of course, Billings! Josh has an extensive background in customer service and is great with people as he has been employed in the food and retail industries as a manager for over 20 years. He also has a background in finance, as he has worked in banking for nearly five years, and has been in the insurance industry for over a year as of now.
Outside of work, he enjoys the fulfilling full-time job of being a parent to 4 children, ages ranging from 20 years all the way down to 11 years old. He is a committed sports fan, his favorite teams being the New York Mets and Chicago Bears. Josh is also passionate about helping local causes and believes that strong community involvement is integral to allowing its members to feel safe and supported. He is mainly interested in dedicating his time to helping veterans in our area and is open to many other community charitable ventures.
Azael
Azael joins us at JM Insurance Group for an internship opportunity lasting through the beginning of Summer 2022. He is a Billings local who is currently a senior at Skyview High School, destined to have a bright future reflecting his perseverance and hard work.
One of his main goals in life is to obtain a broad understanding of many subjects so that he may apply his skills and cultivate a life worthy of living. He enjoys looking at situations from new perspectives, broadening his social circle, and experiencing everything life throws his way.
When he is not studying, Azael works as a cook at Uberbrew and By All Means, both local breweries in high regard within our community. In his free time, he likes spending quality time with his loved ones and girlfriend, socializing with his friends, people watching, skateboarding, and working on creative writing projects. He appreciates a wide array of subjects, including current events, politics, advancements in technology, and new ways of thinking in a sociological context.
Azael is an inquisitive and driven person with a promising future in any industry, and we are happy to have him here.
Joni
As of December 2021, Joni has retired. Although we are sad to see her leave us, we are delighted to inform you that she will be helping us out with clerical duties periodically throughout the summer!
Joni grew up in our neighboring state in Powell, Wyoming. In 1986, she earned a Bachelor's degree in marketing from Portland State University. Her enthusiasm for marketing stemmed from her time at Levi Strauss in the late 1970s. As part of their sales team, Joni worked exclusively with account executives, where she sold large quantities of men's clothing to major companies such as Macy's. While at Levi Strauss, she was considered an "idea person," often brainstorming with the advertising department for national sales campaigns.
Joni joins JM Insurance Group as a Personal Lines Producer, specializing in home, auto, and recreation vehicles. She is your personal shopper for your insurance needs!
In the 1980s, Joni became the Director of Marketing for a national interactive video educational program. There, she designed school catalogs and wrote press releases. This experience included planning a National Conference for schools all over the United States whose goal was to engage students in interactive video classes. This company was ahead of its time, a stepping stone to online college classes.
During the mid-90s, Joni managed multifamily properties in Portland. While there, she worked for a builder and aided in renting new apartments by finding acceptable tenants. In addition, Joni trained other managers to be successful in rental retention using strong screening criteria.
For the past fifteen years, Joni switched gears, working in the medical field as a respiratory therapist. But, it was time to get back to her business roots. After purchasing her house three years ago, she was impressed with a homeowner's policy experience, which led to her new interest: insurance.
Community and News
Since JM Insurance opened its doors in January 2017, our major emphasis has been community involvement. We are dedicated to helping through volunteering, collecting supplies for various programs, and monetary donations. We help many charities with a focus on local charities in Montana. We are a small agency but have a big heart! If you would like to be involved or would like to participate in a donation to one of our charities, please email jennifer@jminsgroup.com or call at 406-534-8008.
Red Lodge Flooding
In June of 2022, JM Insurance Group donated 21 cases of water to Red Lodge after flooding left part of the town without drinkable water. Jennifer volunteered for a couple of days, handing out snack bags to workers and homeowners affected by the flooding. She also delivered breakfast to the Red Lodge Fire Department.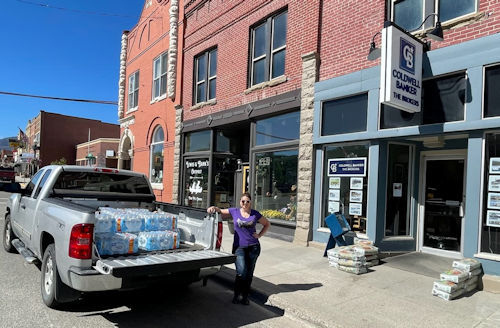 Donating 21 cases of water to Red Lodge
Dropping off breakfast for the Red Lodge Fire Department
BILLINGS NEIGHBORHOOD WATCH HELPING THE HOMELESS DRIVE
Dale Morgan, a former homeless man, is doing what nobody did for him by offering homeless people blankets and other winter clothing. This effort of Dale's received media coverage and many articles in the Billings Gazette. JM Insurance provided a drop-off location in the heights for the various clothing and blankets. With all of the support of the heights community, we were able to donate several large bags of blankets and clothing.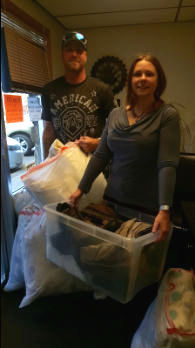 1st donation pickup with Dale Morgan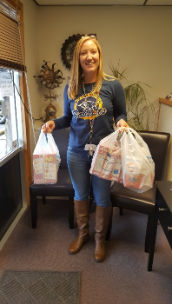 Stephanie, a teacher, picking up the donations
BILLINGS ELEMENTARY SCHOOLS
Many students and families in a few elementary schools around Billings are low-income. They struggle to provide adequate clothing and school snacks for their children. JMIG purchased some snacks for these students.
QUILT RAFFLE
JM Insurance Group raffled a Ringo Lake Quilt made by breast cancer survivor Wendy Negethon. We raised money in donations for three cancer programs, Relay for Life, Pack the Place in Pink, and PEAKS.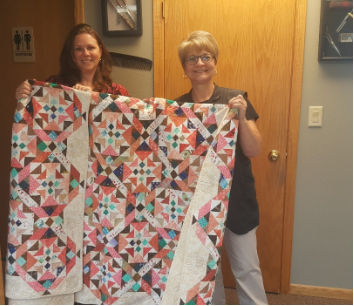 Emilie, winner of the Ringo Lake Quilt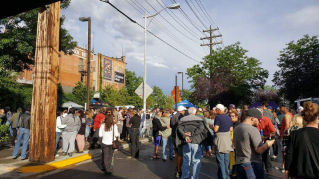 Downtown Billings Alliance - Alive After Five
DOWNTOWN BILLINGS ALLIANCE
Every Thursday in the Summer, Jennifer volunteers for the Downtown Billings Alliance for the Alive After Five event. The DBA is a non-profit organization with a vision to achieve excellence in community leadership and growth. Our Mission is to develop a strong business climate and vibrant economy by serving the community in a leadership role, thereby enhancing the quality of life.
RELAY FOR LIFE
During Yellowstone County's Relay For Life, JM Insurance Group sponsored a team to walk for the event in 2017 and 2018. The mission of Relay for Life is never to forget those lost to cancer, that those who face cancer will be supported, and that one day, cancer will be eliminated.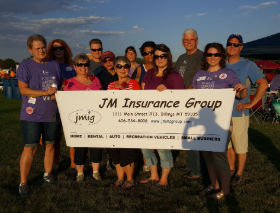 2017 Relay for Life group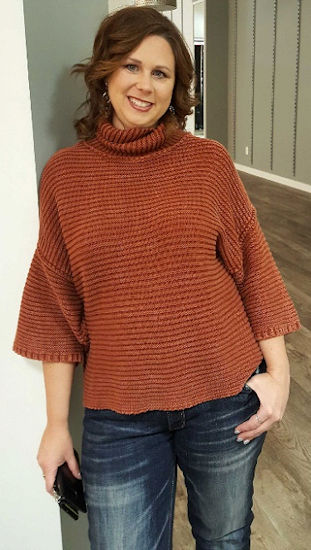 Jennifer modeling an outfit for the fashion show.
PACK THE PLACE IN PINK
The fight against breast cancer is near and dear to our hearts as Jennifer Massey, owner of JIMG, is a breast cancer survivor. Anyone diagnosed with breast cancer can apply for assistance with Pack the Place in Pink. In October, during Breast Cancer Awareness Month, they have a fashion show at the biggest mall in Montana where all the models are cancer survivors.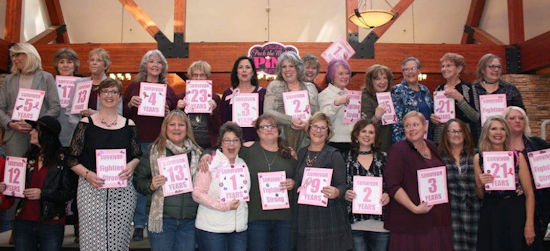 Pack the Place in Pink Breast Cancer Survivors
ALZHEIMER'S ASSOCIATION
JMIG had a team for the Alzheimer's Association Mulligans for Memories golf tournament at Briarwood golf course in July 2017. This fun golf scramble is a great way to enjoy the summer while raising funds, concern, and awareness in the fight against Alzheimer's.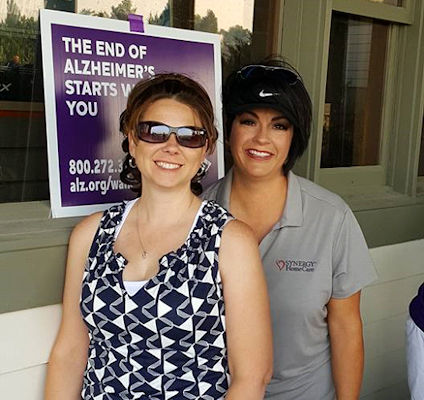 Jennifer and co-golfer in front of the benefit's sign.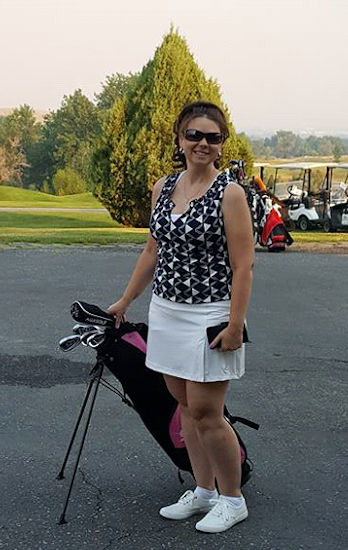 Golfing for Alzheimers Association's Mulligans for Memories
Contact Us
Address
JM Insurance Group
1111 Main Street, Suite 6
Billings, MT 59105
Contact Information